Geraldine O'Callaghan, Clare Fitzgerald and Patricia Hall, three second year SPHeRE PhD scholars, who are part of the iPASTAR  (improving pathways for acute stroke and rehabilitation) CDA, were delighted to represent Irish Stroke Research at this year's European Stroke Organisation Conference (ESOC) in beautiful Lyon, France. This was a hybrid meeting which we opted to attend in-person, having spent the past two years at on-line events. The scientific programme brought together the latest and best stroke science including specialised sessions, teaching workshops and opportunities to learn new technologies, hear innovative ideas and meet and network with peers and friends from across the world. Geraldine O'Callaghan having submitted an abstract for oral presentation participated in a session titled 'Rehab and Recovery' where she presented findings from her systematic review and meta-analysis which explored the available evidence in relation to supports provided at transitions of care for stroke patients and their families and caregivers.  Clare Fitzgerald presented the findings of her research "Model-based economic evaluations of community-based interventions for post-stroke care: A systematic review" in e-poster format.  Patricia Hall and her colleagues in the research alliance group INSsPIRE "International Network of Stroke secondary Prevention Researchers" hosted an informative panel session titled "Optimising Secondary Prevention by Non-Pharmacological Approaches". At this session Patricia presented her findings from a scoping review of stroke secondary prevention guidelines and audit documents titled "Current guidelines in non-pharmacological non-surgical stroke secondary prevention: Gaps and opportunities"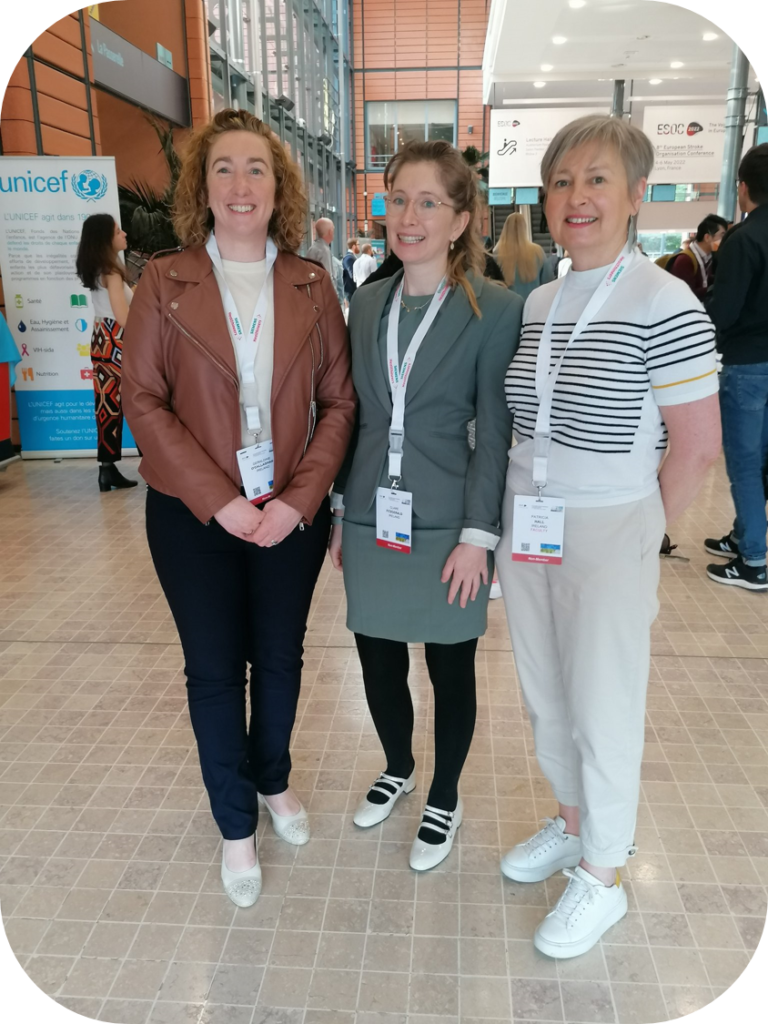 "Networking is not just about connecting people. It's about connecting people with people, people with ideas, and people with opportunities."
 – Michele Jannae
While participating at a conference is valuable for research dissemination, conferences also provide a unique opportunity to connect with fellow scholars and develop professional networks and personal brand. Networking guru Michele Jennae summed this up nicely "Networking is not just about connecting people. It's about connecting people with people, people with ideas, and people with opportunities."
For PhD students, the ability to network is one of the most important activities in the pursuit of professional development and knowledge sharing.  However making that initial outreach, whether virtually or in person at events such as ESOC 2022, can be intimidating. Despite this, we recognised the need to maximise the networking opportunities and diverse range of contacts represented at the conference. Two of our iPASTAR supervisors, Prof David Williams and Dr. Olive Lennon, who also attended the conference with us were able, in many instances, to make introductions to people we wanted to connect with. We also found that having support from each other meant negotiating the large networking lounge and approaching delegates was less intimidating.
To make the most of these opportunities preparation was key.  The organisers of ESOC provided an online platform where participants could introduce themselves, get to know each other and share experiences. Ready access was also provided to the programme and delegate list, so a networking strategy could be formulated in advance.  Identifying key connections and researching their work and social media engagement provided invaluable background and knowledge. Investing some time in understanding the focus and long-term interests of fellow participants helped craft the key messages which were important to get across during the event.   A conference mobile app allowed us to design a personal schedule ahead of the conference, which allowed us to build in times to hang out in the networking lounge.
Initiating a conversation was challenging at times; waiting until a delegate had presented their work gave us the opening to complement their presentation, and discuss how our own work correlates with theirs.  Active listening; having a "giving and open" attitude; and being confident in what we had to offer was important.  We found being prepared to very briefly summarise our research was extremely helpful in these situations.
A number of people used business cards as they networked – we weren't that well prepared!  However, conference badges were used to their full advantage; the person's name, job title, organisation, and all the key information you needed to put your conversation into context and follow up was right there. We also utilised Twitter and Linkedin to connect with international delegates while 'flying the flag' for Irish Stroke Research and expand iPASTAR's online presence.
Finally, once home the importance of fostering the networks we built at ESOC cannot be underestimated.  Networks are expanding and collaborations are forming that will contribute to our current research and potentially to our future professional careers.
So our tips to achieving a great conference networking experience are to:
Be Prepared
Be Visible
Be an Active Listener
Nourish your Network (follow up)
| | |
| --- | --- |
| | Geraldine O'Callaghan is a SPHeRE PhD scholar in the School of Population Health in RCSI.  Geraldine is a Physiotherapist who has worked for over 20 years in acute, rehabilitation and community settings.  She holds an MSc in Neurology and Gerontology from the Royal College of Surgeons in Ireland (RCSI), and a Diploma in Project Management and Leadership. Her PhD research, as part of the HRB Collaborative Doctoral Awards Programme (CDA) with iPASTAR (improving Pathways for Acute STroke And Rehabilitation), is focussed on improving the transition from hospital to home for people who have experienced a stroke, and their families.  Geraldine's current study is focussed on documenting the outcomes, needs and healthcare utilisation of stroke survivors as they transition home, and in the first 6-months after stroke.  Her supervisors are Prof Frances Horgan, Prof Rose Galvin and Prof Peter Langhorne. |
| Clare Fitzgerald is a Health Economist and midwife whose previous work includes collaboration with the Health Research Board, the Department of Health, and University College Cork on the 'Framework for Safe Nurse Staffing and Skill-Mix'. She holds an MSc in Health Economics from the National University of Ireland, Galway and a Bachelor's degree in Midwifery from Trinity College Dublin. Within the iPASTAR (improving Pathways for Acute STroke And Rehabilitation) Collaborative Doctoral Awards Programme (CDA) funded by the HRB, she will investigate the cost and cost-effectiveness of current stroke care pathways and the interventions developed by the iPASTAR team. Her supervisors are Jan Sorenson and Paddy Gillespie. | |
| | Patricia Hall is a SPHeRE PhD scholar on the HRB Collaborative Doctoral Awards Programme (CDA) iPASTAR (improving Pathways for Acute STroke And Rehabilitation), registered in UCD School of Public Health, Physiotherapy and Sports Science. Patricia has a background in cardiovascular nursing working in a range of clinical and research settings as a senior nurse specialist in health promotion and disease prevention, and patient and family support and education. Her research interests are in stroke secondary prevention focusing on supporting individuals after stroke to stay well and reduce their risk of recurrence through lifestyle risk factor modification. Patricia is currently completing an Overview of Systematic Reviews which will establish the characteristics of effective secondary prevention interventions previously employed in clinical trials. She is preparing to gather the experiences of individuals adopting a healthy lifestyle after stroke and how this was addressed on their stroke pathway. This will build towards codesigning a behavioural intervention to support healthy lifestyle participation after stroke. Dr Olive Lennon UCD, Prof Thilo Kroll UCD and Prof Maggie Lawrence GCU are supervising this project. |