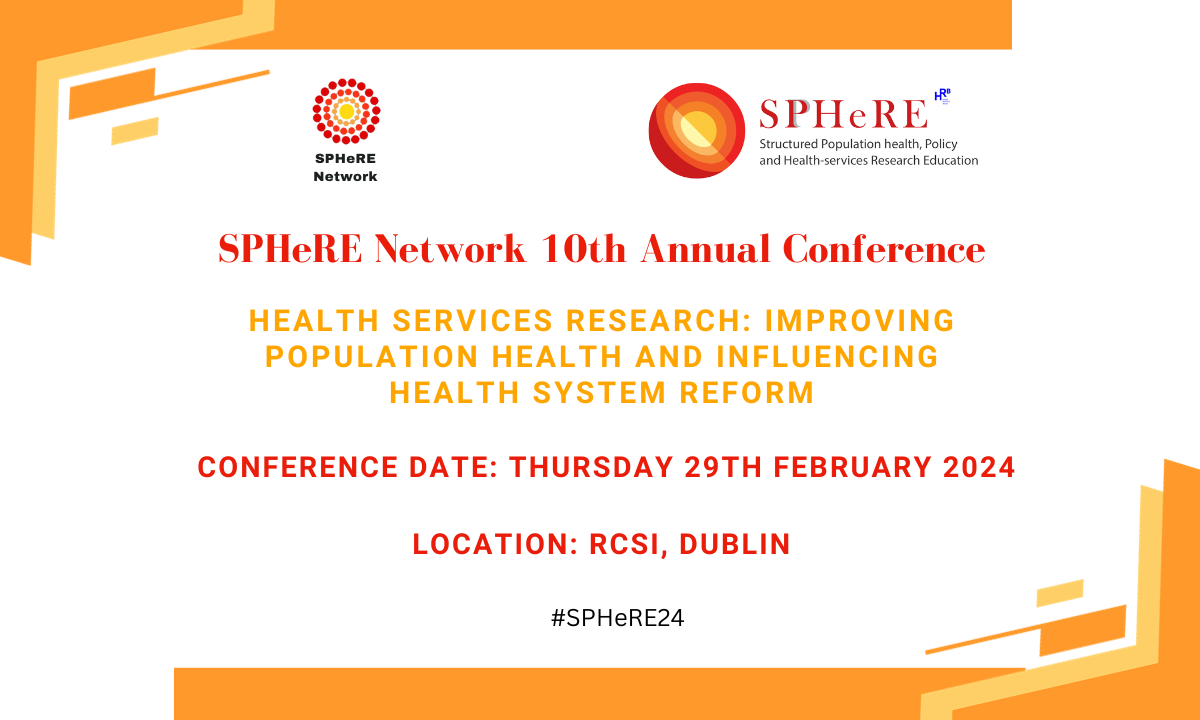 The SPHeRE Network 10th Annual Conference
 'Health Services Research –  Improving Population Health and Influencing Health System Reform'
will take place on Thursday 29th February 2024 in RCSI
Registration for the conference will open soon
At the 10th SPHeRE Network Annual Conference we will examine how health services research can and does improve population health and influence health system reform.
We will showcase different aspects of health services research that address key public health and health system challenges resulting in positive health and system change. The conference is an opportunity to hear from international leaders in the field, to understand how different disciplines can work together using high quality academic research to guide health system and policy decision-making which shape population health and health system reform.
View Abstract Submission Guidelines
Conference Keynote Speakers
Professor Jane Hirst

Conference Keynote Speaker

Chair in Global Women's Health at the George Institute for Global Health, School of Public Health, Imperial College London

Professor Jane Hirst is the Chair in Global Women's Health at the George Institute for Global Health, School of Public Health, Imperial College London. She is an honorary consultant obstetrician at the John Radcliffe Hospital, Oxford. Her research focuses on global perinatal health, specifically lifelong effects of pregnancy complications and the effects of climate change on pregnancy health. After completing her clinical training at the Royal North Shore Hospital in Sydney, Australia, she was awarded a Prime Minister's Australia-Asia Endeavour Doctoral Award to complete her PhD at the University of Sydney and Hung Vuong hospital in Viet Nam. In 2013, she was awarded a Nuffield Postdoctoral Fellowship from the University of Oxford, to work with the INTERGROWTH-21st consortium and was part of the team that developed the GDm-Health App, now used in over half the NHS Trusts in the UK. In 2021 she was awarded a UKRI Future Leaders Fellowship to focus on utilising pregnancy as an opportunity to improve women's lifelong health. She leads the SMARThealth Pregnancy 2 cluster randomised trial, recruiting in two states in India. She also leads a group exploring the role of data science in the management of women with gestational diabetes, as well as a group focussed on the effects on extreme heat on pregnancy outcomes in India. Professor Hirst is a member of the UK NICE Diabetes and Maternal and Child Nutrition groups. She is a visiting Professor at the University of Oxford.

Professor Stuart Spencer, Lancet

Conference Workshop Facilitator

Prof Stuart Spencer joined The Lancet in 1999 and throughout his time there has led the Fast Track team that aims to select, review, and publish prestigious manuscripts within 4 weeks of receipt.  Although dealing with all areas of research, he handles the cardiology submissions.

Before joining The Lancet Stuart was a full-time researcher leading various research teams.  His research interests have covered: scoliosis, growth, neuroendocrinology, immunology, fetal development as well as bioethics. He has held posts both in academia and industry in the UK, Netherlands, Switzerland, Belgium, and New Zealand. He has also had visiting professorships at King's College, London, and Hong Kong University, and a doctorate of medicine from Umea University, Sweden.

Professor David Cromwell

Conference Keynote Speaker

Health Services Researcher at the London School of Hygiene & Tropical Medicine, Director of the CEU, RCSI

Professor David Cromwell is a Health Services Researcher at the London School of Hygiene & Tropical Medicine.  Since 2011, he has also been the Director of the Clinical Effectiveness Unit (CEU) at the Royal College of Surgeons and played a lead role in national studies that evaluate the quality of care delivered to patients in the NHS.  These studies have covered various topics, including the delivery of vascular surgery and breast cancer care. The results produced by the national studies are used by health care services as well as national bodies including NHS England, and the Care Quality Commission.  His research has focused on issues around how to quantify the extent of variations in clinical practice and patient outcomes within the UK and disseminate this information for quality improvement.  A key interest in this area has been exploring the benefits and challenges of using linked clinical administrative datasets for quality assessment.
Dr Sheena McHugh

Conference Keynote Speaker

Senior Lecturer at the School of Public Health

Dr Sheena McHugh is a Senior Lecturer at the School of Public Health. Her research focuses on how to ensure that evidence-based interventions are integrated into routine care to improve the quality and effectiveness of care for those in need. This work includes examining barriers and facilitators to implementing evidence-based interventions and designing and tailoring implementation strategies. Her research has largely focused on diabetes management in primary care.

Sheena leads the Health Implementation Research Hub at the School of Public Health, a research group interested in how best to implement evidence-based interventions and support the use of research in health services. She also leads the Irish Implementation Science Training Institute, a blended training programme in implementation science.

In 2020 Sheena was awarded a Research Leader Award by the Health Research Board. This five year funding programme involves research on the process and impact of tailored implementation to support evidence based care, and build capacity in implementation science in Ireland. She partnered with the National Clinical Programme for Diabetes and is a member of its national working group. She also collaborates with HSE Research and Development to support the use and conduct of research in the Irish health service.

Sheena trained originally in psychology, graduating from University College Dublin and holds an MSc in Health Psychology from University College London. She has a PhD in Health Services Research and was one of the first graduates of the HRB Scholars Programme in Health Services Research, now known as SPHeRE. Sheena has a Postgraduate Certificate in Implementation Science from Trinity College Dublin and a Postgraduate Certificate in Digital Education from UCC. She is a Fulbright Scholar (2018) and worked as a visiting scholar at the Gillings School of Public Health, University of North Carolina. She is now the Fulbright Ambassador at UCC. She is Associate Editor with BMJ Quality and Safety and a member of the editorial board of Implementation Research and Practice.

Prof Molly Byrne

School of Psychology

University of Galway

Molly is a Professor of Health Psychology at the School of Psychology at the University of Galway, Ireland, where she directs the Health Behaviour Change Research Group (HBCRG). This Group is a national hub and internationally recognised centre of excellence in the application of behavioural science to health behavioural intervention development, evaluation and implementation. Molly's research aims to improve population health by working with key stakeholders to develop and promote an evidence-based behavioural science approach to health behaviour change interventions. She has published widely in the areas of chronic disease prevention and management and directs the Collaborative Doctoral Programme in Chronic Disease Prevention (CDP-CDP), as well as the Masters Programme in Health Psychology. Molly is the HRB SPHeRE Programme Lead for the University of Galway.

Molly is an Honorary Fellow of the European Health Psychology Society and the (Irish) National Institute for Prevention and Cardiovascular Health (NIPC). She is Associate Editor of Annals of Behavioral Medicine and a member of the Executive Committee of the International Behavioural Trials Network, the Executive Committee of the Health Research Board (HRB) Primary Care Clinical Trials Network Ireland and the Executive Committee of the HRB Diabetes Collaborative Clinical Trials Network.